Reading Time: 4 MINUTES
Unlike Dr John Dolittle, the fictional hero of bygone children's stories, our Dr James Obare cares for our staff, guests and community whilst surrounded by zebras, giraffe and the occasional elephant. This is a typical day in his life at the Angama Clinic
My day starts around 6am: I wake up, pray, shower, dress and make my bed. By 7, I'm in the canteen enjoying a breakfast and a cup of tea. After I finish my fruit, I make my way to the clinic before the morning meeting where I do some minor cleaning and check that all is in order for the day. Sometimes community members are already here in need of urgent early morning treatment.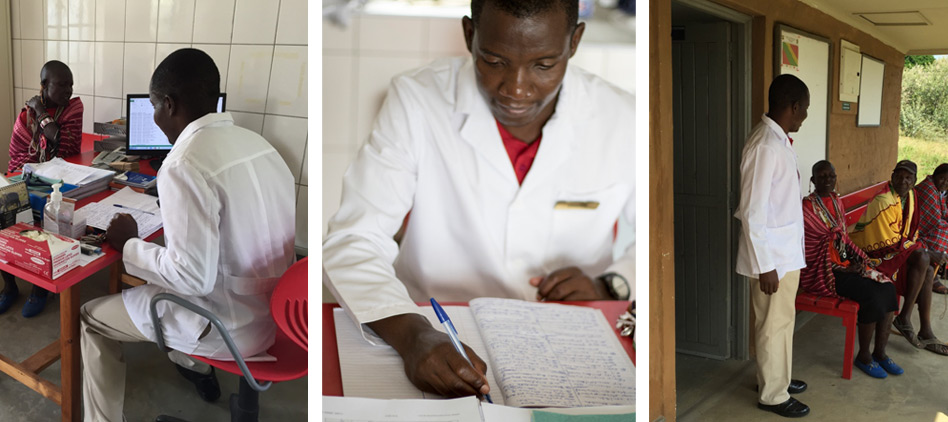 By 9am, unless I'm with a patient, I close up the clinic for our morning meeting. It's important I'm there in case there are any guests or staff with medical issues. I check with the camp managers if there are any guests who might not be feeling 100% and I avail myself when it suits them. But today all is well with our guests!
By 9:30am, I'm back to the clinic. First, I catch up with yesterday's paperwork – writing patient reports, filing reports to the County and checking my to-do list. Today, I need to follow up with a staff member in their room that was ordered to rest for a few days after being diagnosed with malaria. Thanks to some amazing guests, we can now analyse blood samples to confirm the presence of malaria. Best to catch it early when it is still very easy to treat. We have to report all cases of malaria to the County. I have found that these cases are mostly being contracted from when a staff member goes home to Western or coastal Kenya where malaria is more common. It is rare that any staff or community members contract malaria while in the Mara.
More often from the community are cases of brucellosis (from unpasteurized milk), ameobiasis and typhoid fever (often due to an unreliable water source) and conjunctivitis and trachoma in the children. If caught early, all of these are easy to treat. More and more we are seeing community members coming to the clinic for treatment and gaining their trust. Western medicine can often be a last resort in some very traditional and rural areas. We work closely with the County social workers within the healthcare network to educate the communities and report any cases to us. It's a great programme and one that I'm proud the Angama Clinic takes part in.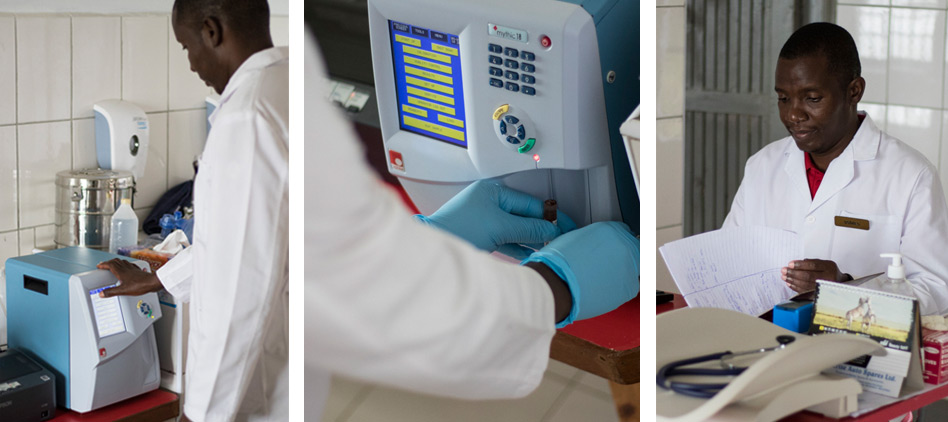 Suddenly the day has flown by, and I often find I sneak in lunch once the line out my door is gone. Some days are very busy and some days slow – but its all part of the job and being available to the community.
My day wraps up around 5pm. I tidy up the clinic, put supplies away, update my stock sheets of what I have used for the day and finally close the windows and curtains and lock up. But my day isn't over then – because we are a hospital set up for the area, we are open to any emergencies that may arise so I am always on the ready if there is a need!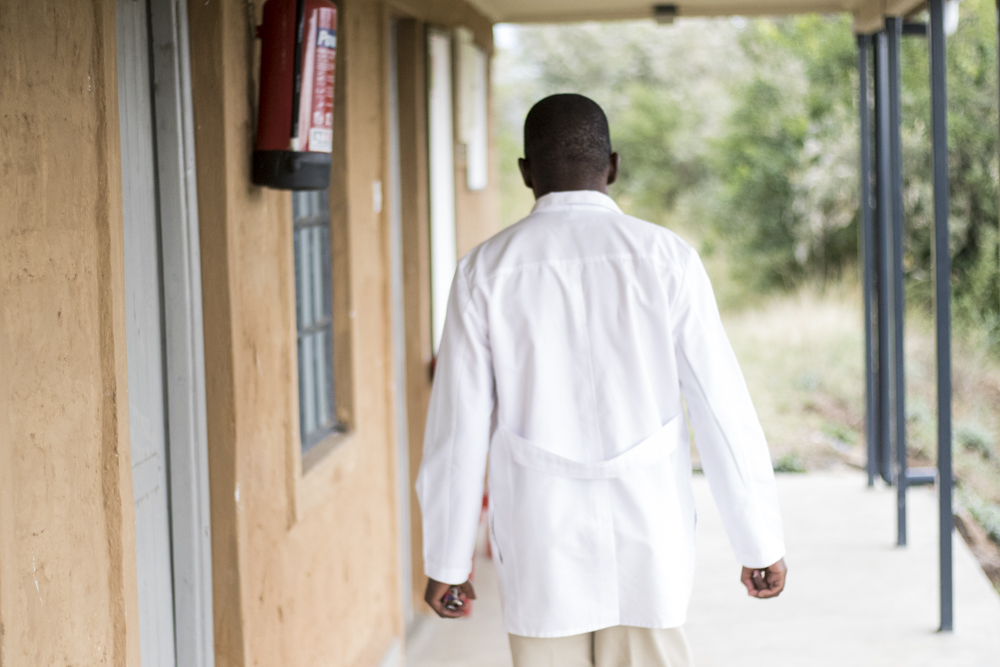 My evenings are usually spent taking a nice long stroll in the evening light – my daily form of exercise. I walk to the soccer field where I love watching the sun starting to dip below the horizon. I head to the Canteen and wait for dinner to be ready while chatting with my colleagues. It's always fun to catch up about the news or get in a spirited conversation about football (go Arsenal!). And if there is an Arsenal game on, you can find me in the Rec Room cheering on my team.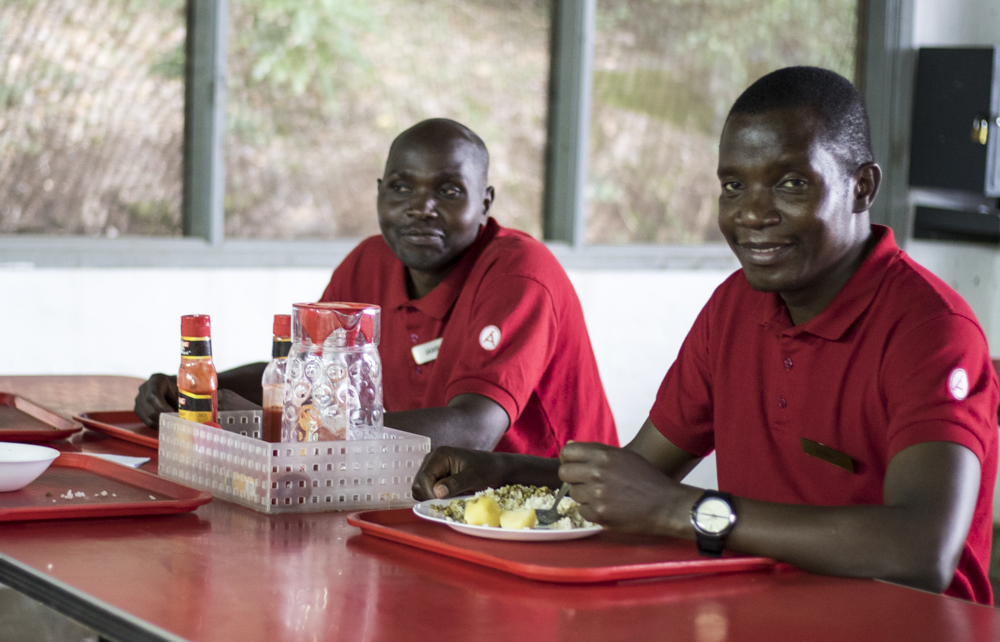 After dinner, I call my wife to get an update on Mong'ina, my beautiful baby girl. I can hear our 16-month old cheerfully playing in the background and know that she is lovingly cared for. I often like to read some of the e-medicine journals online before bed to keep up to date with the latest studies.
I pray before bed once more, and thank God for this blessed opportunity that allows me to make a difference in this lovely community high up on the edge of the Great Rift Valley.
Note from the Editor: Many of our guests love visiting Dr James in his little clinic tucked away on Angama's property. They check their blood pressure, chat to Dr James, and if they are brave enough, get on the scales – not something we recommend whilst on holiday. Only yesterday we received this lovely email from one of our community members and it made us so proud:
"I am writing this to commend you for the wonderful state of the art angama clinic. Indeed it stands above any other in the maasailand. I live in Kawai and recently brought my son who was seriously ill and believe me, I was fascinated with the high standards of quality medical care he received. The services offered by Doctor James are brilliant and believe me, your hospital is the favorite among the surrounding community. Everybody who has got treated in your hospital is talking about the brilliance of doctor James. Not everybody can be able to pass their gratitude in writing but I can assure you the community is so grateful for this gift."